Full interveiw https://www.youtube.com/watch?v=PXAfo764c8c

ПОХОЖИЕ ВИДЕО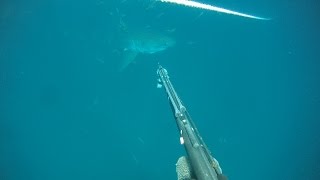 2 год назад
My buddies Alex Fogg, Joe Kistel and I had been filming and collecting lionfish at various sites in the Gulf southwest of St. George Island FL. We had been taking turns with Alex and Joe diving together while I dove solo. This was my third and final dive of the day on a man-made structure in 93' feet of water approximately 22 miles due south of St. Vincent Island. The shark enters the camera's field of view at 3:48 and a moment later catches my eye. I instantly recognized it as great white and you can faintly hear me say "Oh my God". I estimate the fish was 35' or so below me. It spooked me in that it had approached from behind and had already passed me when I saw it. I watched until it swam out of sight then re-cocked my speargun which I usually unload when heading back to the boat as a safety precaution. I glanced around looking for the shark and up at the boat to make sure the dive ladder was indeed down. I noticed a small lionfish had escaped from my bag and was swimming down and you can hear me say "oh no". The bag of lionfish was positively buoyant and it drifted into me dragging the stringer of mangroves with it. I moved it out of the way and kept scanning the water column below. My first two dives had been to 120' and I had pushed this dive at 93' to my limit of bottom time. I needed to do this safety stop to avoid the bends, so I stayed where I was while my computer counted down the required 3 minutes. I took another quick look at my boat and another at my computer which shows me at 15' below the surface. Most sharks have a tendency to come back for another look and that's exactly what this one did. Fortunately, I was looking in the general direction when I faintly saw something that caught my eye. It was the shark about 40' away coming straight at me from below. I've had countless encounters with bulls, sandbars and a few tigers and hammerheads. Over the years, I've learned the best defense is to go on the offense and let them see that I'm not intimidated. Turning and running could trigger the predator/prey instinct, so I stood my ground aiming my speargun at its head. For a second I figured this was it and was prepared to fend it off with my gun like I have done countless times before with curious or aggressive sharks. Fortunately, for whatever reason, this one turned at about 15' away and gave me a full profile view. I say "Oh my God" again and then let out a loud sigh of relief when he turns again and heads back down. I watched until it disappeared again then decided to take my chances with decompression sickness rather than a third visit from the shark, so I skipped the remaining 2 minutes of wait time and headed to the surface and safety of the boat. I estimate the shark was 9-10' long and at no time did it seem aggressive or anything other than curious. I'm a charter captain and I had a juvenile great white around 12' long circle my boat last year about 30 miles out around the same time the tagged great white shark named Katherine was being tracked in the Northern Gulf. I had heard other reports of random sightings and saw the news reports of the great white caught off the beach in Panama City so I knew great whites come into the Gulf. This was the first one I've ever seen while diving and this experience will make me reconsider diving in murky water with limited visibility. I'm glad we both went our separate ways fully intact and healthy, but I hope I never have to experience another encounter like that again.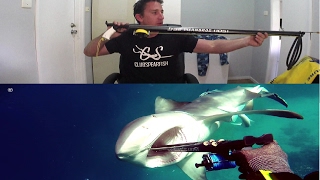 7 мес назад
Interveiw regarding Bullshark attack on a spearfisherman in North Queensland Australia December 2016. https://www.youtube.com/watch?v=pnA5DT3ilQw
2 мес назад
The short clip of me getting attacked by a 7-8ft reef shark. We were spearfishing near Middle Sambo reef off Boca Chica in the Keys on Sunday when this shark came out of nowhere. He first went at my dive buddy Justyn but immediately turned toward me. He first bit my left fin then took a chunk out of the right one before biting my leg and cutting the speargun line. I assumed he was trying to steal the black grouper i was holding. But after I lost the grouper and watched it swim to the bottom, the shark kept coming at us! Justyn went back down for my gun and actually shoved it in the sharks mouth like a badass!!!! The shark then took it straight to the bottom while we rushed back to the boat and safety. Always dive with a buddy and someone who is trained in first aid! I would not have made it back to the boat without the help of another strong swimmer and would have bled out had I not been patched up so well by Amanda. The shark tore through the skin, fat tissue, muscle, muscle sheath, and unfortunately my tibial artery which caused me to lose more than a liter of blood. This clearly could have been much worse! Happy to still have my leg even with a piece missing! And we even got my Koah speargun back!!! 🦈 🦈 🦈 🦈 🦈 🦈 Thanks to everyone that was there or came to help! Pictures of the wound were quite graphic and have been left out. To view them click the following link: https://goo.gl/photos/vyUKpbmtg2e8ZH3A7 #NoThatsMYLeg #TheTaxManStrikesAgain To use this video in a commercial player or in broadcasts, please email licensing@storyful.com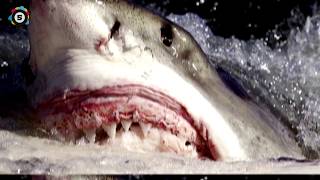 2 нед назад
WHEN SHARKS ATTACK! - 8 Horrific Shark Encounters You Won't Believe! Click Here To Subscribe! http://bit.ly/EliteFacts Follow us on googleplus: https://plus.google.com/+Elitefacts/posts Like us on Facebook: https://www.facebook.com/EliteFacts Follow us on Twitter: https://twitter.com/Elite_Facts Music: no one will hear you scream https://www.audioblocks.com Thanks for watching! Elite Facts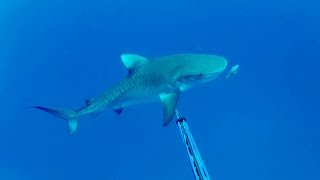 2 год назад
Filmed by Paul Marsh While on a breath hold spearfishing adventure to the Coral Sea in Australia, a young Spearo (Paul Marsh) encountered a near critical and very exciting experience. A Tiger Shark rushes him and his dive buddy several times before they manage to hurl themselves into the boat. Many screams follow due to huge amounts of adrenalin, joy and excitement as Spearo's love this kind of experience and action.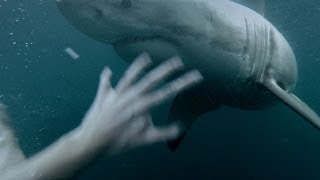 3 год назад
Close Call with a Great White Shark in Sydney Harbour! Filmed on a GoPro at Manly jump rock HOLY SH*T! -- 'Terry Tufferson' Created By CASPAR MAZZOTTI Directed By CASPAR MAZZOTTI Find out more @ www.thewoolshedcompany.com/virals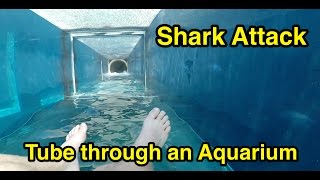 8 мес назад
Take a HD POV aboard Shark Attack where you tube through a shark filled aquarium. Thanks for watching!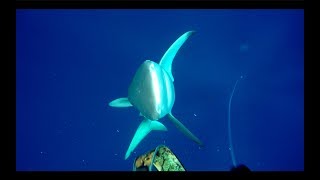 3 нед назад
It was a long way to go from New Zealand to Ascension Island to nearly get eaten by sharks! In this video, shooting a small yellowfin tuna with a pole spear got out of control when 2 galapagos sharks tried to steal the catch. We put cool stuff on our Facebook page www.facebook.com/TheAdventureClub.nz * Jukin Media Verified * Find this video and others like it by visiting https://www.jukinmedia.com/licensing/view/965900 For licensing / permission to use, please email licensing(at)jukinmedia(dot)com.
5 мес назад
The Yucatán Peninsula is known for its turquoise water kissed beaches in Cancun, Mayan pyramids and quaint fishing villages. On the Northwestern shores of the peninsula is a small beach fishing community, known as Sisal, and it was off the coast here that I experienced deep sea octopus fishing. At the crack of dawn, one thousand fisherman gather daily in the marina. From mid-August through December, many of the village boats are after one specific catch, the Yucatán octopus. Known locally as "pulpo", octopus is a staple in many of the excellent restaurants in Mérida (including Rosas & Xocolate and Rosa Sur), yet the thrill of the catch is a thrilling process. The first step is bait. Catching enough crabs to take out for the day to satisfy an all-day fishing spectacle. Followed by driving the boat approximately 16 miles offshore to reach the optimal depth of 10 feet and spots known to be home for the magnificent sea creatures. Like clockwork, the fishermen are set up within minutes to start the task at hand – gather octopus to fill their buckets. Ten to twelve lines are tied to a bamboo pole secured to the inside of the small boat. Lines consist of sisal rope with a crab attached to the end, thrown in the wavy sea. Octopus fishing results are best in an active sea. The fisherman waits. Octopuses eventually attach themselves to the crab to feed, and the rope is pulled in. In my boat, it was myself and a fisherman. I watched in awe as he knew exactly when the octopus had attached himself and the line was ready to be pulled in. Perhaps more amazing, all the fishing is done by hand. There are no reels or fancy boats. Instinct kicks in and locally found items are the only tools onboard.
2 год назад
SUBSCRIBE to the Barcroft network: http://bit.ly/Oc61Hj UNSEEN footage of what experts believe is the biggest great white shark ever caught on camera has been released. The seven metre-long female known as Deep Blue stunned the world last year when video was unveiled of it dwarfing cage divers off the coast of Guadalupe Island, Mexico. Now, diving enthusiast Michael Maier, 48, has released even more eye-catching clips of the giant female feeding on bait and inquisitively circling divers. Deep Blue, who is estimated to be at least 50 years old, was filmed by Michael in November 2013 - but these latest files were previously unseen. Videographer / director: Michael Maier Producer: John Balson, Nick Johnson Editor: Sonia Estal, Ian Phillips Barcroft TV: https://www.youtube.com/user/barcroftmedia/featured Barcroft Cars: https://www.youtube.com/user/BarcroftCars/featured Bear Grylls Adventure: https://www.youtube.com/channel/UCzcUNwS7mypzPhW4gsjO7og/featured For more of the amazing side of life: For the full story, visit BARCROFT.TV: http://www.barcroft.tv/ Like BARCROFT TV on Facebook: https://www.Facebook.com/BarcroftTV Follow @Barcroft_TV on Twitter: https://www.Twitter.com/Barcroft_TV Check out more videos: https://www.youtube.com/user/barcroftmedia/videos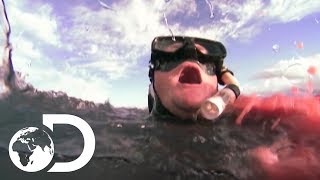 4 нед назад
Some of the most terrifying shark attacks revealed with life changing consequences. Subscribe to Discovery TV for more great clips: http://www.youtube.com/subscription_center?add_user=DiscoveryTV Follow Discovery on Twitter: http://www.twitter.com/DiscoveryUK
9 мес назад
5 Megalodons Caught on Tape & Spotted In Real Life! Description: There is a common misconception that Megalodons, those gigantic sharks and aquatic predators thought to be extinct, lived 70 million years ago. The belief is so widespread that the makers of Shark Attack 3 added pages to the book Great White Shark by Richard Ellis to fit the fictional record. But recent evidence has caused some scientists to speculate that not only are Megalodons not that prehistoric, a few could be surviving today. Let's look at 5 examples of potential real-life super-predators from the depths of the sea. Let's begin! #5 – The Black Demon Shark of Mexico In October 2015, the YouTube channel Official Best Documentary released a documentary about what it called the most dangerous shark in the world. Called El Demonio Negro, or "The Black Demon," the beast is said to resemble a Great White, but with very dark coloration and a monstrous appearance.Terrified fishermen along the Baja Peninsula have reported spotting the Black Demon, which from eyewitness accounts and investigation is said to grow as long as 80 feet. #4 – Whale of a Problem Inhabiting tropical oceans waters near most continents, whale sharks are known for growing to the size of a true Megalodon, with the longest on record measuring almost 50 feet. However, these sharks have been known as tame and harmless filter-feeders.But this footage, taken off the Indonesian coast in 2012, shows an unlucky diver being attacked by a suddenly aggressive and terrifying whale shark. Why the sudden volatility? Some scientists believe that as climate change affects sea levels and oxygen content in ocean waters, some previously docile huge fish may become aggressive, like the shark shown in the video. #3 – Kraken Open An Old Case The Kraken is one of our best-known seafaring myths, showing up in popular culture such as the sword-and-sorcery franchise Clash of the Titans. The aquatic monsters originated from Norse storytelling and have been said to dwell off the shores of Norway and Greenland. The beasts have been depicted as gigantic octopi or squid that attack sailors and their ships.Recent revelations of a real-life Colossal Squid have given many reason to think these horrifying and tendrilous creatures are the inspiration behind the Kraken. These scientists from New Zealand were recently caught on camera dissecting a very small, if still hideous, specimen of the Colossal Squid killed near Antarctica. They discovered that the squid has 3 hearts, 8 arms, and eyeballs the size of dinner plates. Don't let the modest size of the almost alien-looking specimen fool you. #2 – Maier My! Michael Maier, a cage diver and aquatic zoologist, stunned the scientific community earlier this year by releasing footage of the largest shark ever filmed, a 7-meter long female great while affectionately named Deep Blue. The legendarily long lass lives off the coast of Guadalupe Island, Mexico and has not been known to threaten humans. In the footage, the Megalodon can be seen curious circling cage divers and otherwise causing no harm. Perhaps mellowness comes with old age – Deep Blue is thought to be at least 50 years old. #1 – The Beast of Brazil Hoaxes usually involve doctored footage and obviously staged interviews. For instance, the Discovery channel's controversial documentary Megalodon: The Monster Shark Lives received criticism for using paid actors in place of scientists, and CGI-enhanced depictions of deep-water predators. But often, the best evidence of mysterious and disputed phenomena comes by accident. This footage, taken unwittingly by elements of the Brazilian Coast Guard in 2013 during a relatively routine sea-to-air operation, shows an immense shark passing by a swimmer in the upper right hand corner of the screen. Researchers believe that the fish captured on camera could be as much as 60 feet long. Ironically, the giant was not spotted by the onlookers, but discovered later as technicians looked at the video. Knowing how a true Megalodon would react to panic and thrashing in the water, the Coast Guard's naked-eye oversight might just have saved their lives. ALL Links to the footages shown within this list: 5 - https://www.youtube.com/watch?v=K4LiFKhCJQQ 4 - https://www.youtube.com/watch?v=tEa0ceDtVAo 3 - https://www.youtube.com/watch?v=aGQogPirV3s 2 - https://www.youtube.com/watch?v=8raLJHzWqVA 1 - https://www.youtube.com/watch?v=-eiUErh5uKc Background Music: Kevin MacLeod (incompetech.com) Licensed under Creative Commons: By Attribution 3.0 License: https://creativecommons.org/licenses/by/3.0/ For copyright matters please contact us: OfficialAmerikano@hotmail.com _________________________________________________________________ Thank you so much for watching! Smash that like button for more, make sure you share the video with your friends and dont forget to subscribe! Make sure to follow me here: https://twitter.com/Top5sFinest
КОММЕНТИРОВАТЬ в ВКОНТАКТЕ
КОММЕНТИРОВАТЬ в FACEBOOK